The Expert Dryer Vent Cleaners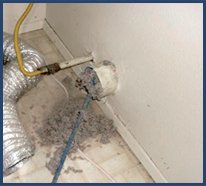 As a homeowner you have many different responsibilities. You have to make sure your home is always in top shape including cleaning your yard, your outer structure of your home, and especially the inside of your home. What many homeowners fail to notice is that your appliances should be ion working order too.

Many homeowners think that once they clean out the main dryer vent they have done enough to keep their dryer from catching fire. That is not always the case. Your dryer is made up of different compartments and sections and lint is small and floats. It can easily become trapped in areas you have forgotten or never then to check. Remember to clean your dryer vents. Dryer Vent Cleaning the Woodlands is a total home dryer vent cleaning company that helps to clean your dryer from the inside and out and helps to prevent dryer fires.
We Offer to All of Our Customers
One of a kind customer service
Licensed expert dryer vent cleaning technicians
100% money back satisfaction
Certified to prevent dryer fire
Cheap Dryer Vent Cleaners
Fully staffed at all times
Free Consultation
Dryer Vent Cleaning the Woodlands Rated Number One Dryer Lint Cleaners
When it comes to your home you want only the best companies coming to service your home. Dryer Vent Cleaning the Woodlands understands that we will be coming into your home and we do not take that lightly. When we perform a home dryer vent cleaning we first speak to you about what exactly you expect from us and what you need from us as a company.

We do not perform any services without your permission first. Then once we have worked out a plan with you we will then start to do a home dryer vent cleaning. This cleaning will remove all dryer lint from your dryer and the area as a whole. Our dryer vent cleaner technicians will then do a walk through to make sure we have cleaned all of the area and then ask you if it is to your satisfaction. Our main goal is to make our customers happy. As your dryer vent cleaner we will help prevent dryer fires in your home by 30-50%. Give us a call today and keep your home safe.