Dryer Vent Cleaning The Woodlands TX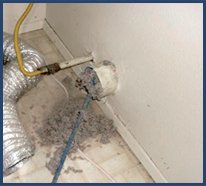 Having lint buildup inside of your dryer vents is a big problem that can lead to health concerns such as asthma, bronchitis, and allergies just to man a few. When you have a lot of lint and it is not filtered properly out of your home, the lint will start to get into air and that will start to trigger your sinuses and allergies more.

Dryer Vent Cleaning the Woodlands Texas wants to alleviate your lint problems with expert dryer vent cleaners. This means we will go into your home and completely clean your dryer parts and vents to give you an amazing clean and properly working dryer. You will notice the difference in an instant. We set the bar high for dryer lint cleaners.
Types of Dryers We Service
Whirlpool
LG
GE
Samsung
Maytag
Electrolux
Frigidaire
Amana
Hotpoint
Number One Vent Cleaning Service In the Woodlands Texas
There are so many benefits to having your dryer vents cleaned. The main one being that you will reduce your chances of a dryer fire by half. Home dryer fires can start from just a little lint becoming overheated or becoming caught within the many small parts of a dryer. Dryer fires can cost you thousands of dollars in damages and the emotional damages can linger for years and years. That is why Dryer Vent Cleaning the Woodlands TX technicians take their job so seriously.

We understand the ramifications that come from not having an expert dryer vent cleaner. We offer specialized dryer vent cleaning services that will clean out all of your dryer vents and keep you and your family safe from dryer fires. What makes our company even better is our low cost. Our vent cleaning services are affordable for everyone to have an expert dryer cleaning. You really have no reason not to call one of our customer service specialists today.
Our Services